GolfGreens® Synthetic Putting Turf FAQ
Interested in a putting green for your backyard? There are a lot of synthetic turf products out there to consider, but only one brand delivers professional-grade putting greens. Our FAQ's answer commonly asked general questions about putting greens and putting turf, and specific questions relating to GolfGreens® synthetic turf.
If you don't see your question below, be sure to contact us for more information!
How much does a backyard putting green cost?
This is one of the most frequently asked questions, but the hardest to answer. The cost of an artificial putting green will vary greatly depending on the size of the green and the different features it has. As a starting point, we have some rough cost estimates for various sizes of greens you can refer to below. Please contact your local GolfGreens dealer for actual pricing.
Pricing Estimates
Small: $5,100
Medium: $9,900
Large: $13,500
Extra Large: $18,000
Shapes Available
Kidney
Oval
Figure Eight
All American
How do you maintain a putting green?
For textured nylon greens (True Putt 10/11™, EZ Putt™, Pro Putt & Chip™)
These greens require very little maintenance.
Keep loose debris off (leaves, grass clippings, etc). This can best be done with a blower.
If the green gets dusty or dirty, it can be sprayed with water to rinse it off. Once a year, it would be good to water down the green and roll it with a water-filled sod roller.
If the green is in a shaded, damp area, over time, mildew could begin to develop. You can deter this by treating with a bacterial enzyme spray.
For sand-filled poly greens (Pin Seeker™)
Due to the construction of the green and the type of blades used, these greens require a little more maintenance.
Keep loose debris off of the green. This can best be done with a blower.
Maintain a regular grooming schedule. This should be done with a push or power broom to keep the sand level, even, and loose.
If the sand begins to pack down very hard, it is good to use a tool with spikes (like a Garden Weasel) and roll over the green to keep the sand from packing too tight. Wet the green first, then run the tool over the green. Follow that by brooming the green, then roll it with a weighted roller.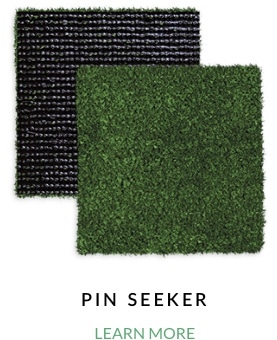 What is the best synthetic grass for putting greens?
The best synthetic grass for putting greens depends on your intended usage. For a natural putting surface, we recommend GolfGreens True Putt 10/11 or EZ Putt due to the true roll of the golf ball. If you want the green to accept longer shots and chips, the product we recommend is GolfGreens Pro Putt and Chip or Pin Seeker, our sand-filled green.
Take a look at this product comparison chart to better determine which GolfGreens product is best for your putting green:
Rating: Five golf balls indicates the best match
Take a look at the GolfGreens product specifications to learn more about our different types of turf.
What is the best size for a backyard putting green?
Residential putting green owners usually have greens that range between 300 square feet to 1,800 square feet. There are factors to consider that will affect the size of the green, such as the available space in the yard, the budget for the project, the number of different holes and types of breaks to be incorporated, whether or not you want space for chipping and longer approach shots, etc.
An experienced putting green designer can help create the green to match each unique golfer's ideas.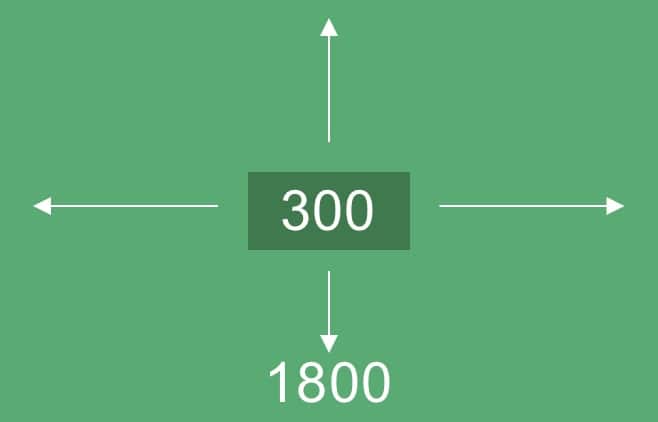 How do I add a putting green to my backyard?
It all starts with a plan! Your first step in transforming your lawn into a putting green is figuring out what type of surfacing solution you want for your green. We recommend contacting the GolfGreens team for help deciding which of our products would best suit your needs.
A putting green expert from ForeverLawn® will visit your property to help define the design of your green and provide a project proposal. This includes measuring the space and discussing your ideas.
Once your proposal is approved, the project will be scheduled, and you will be one step closer to having a professional-quality green in your own backyard.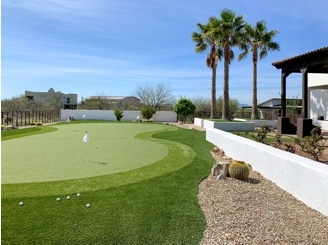 How is a GolfGreens backyard putting green installed?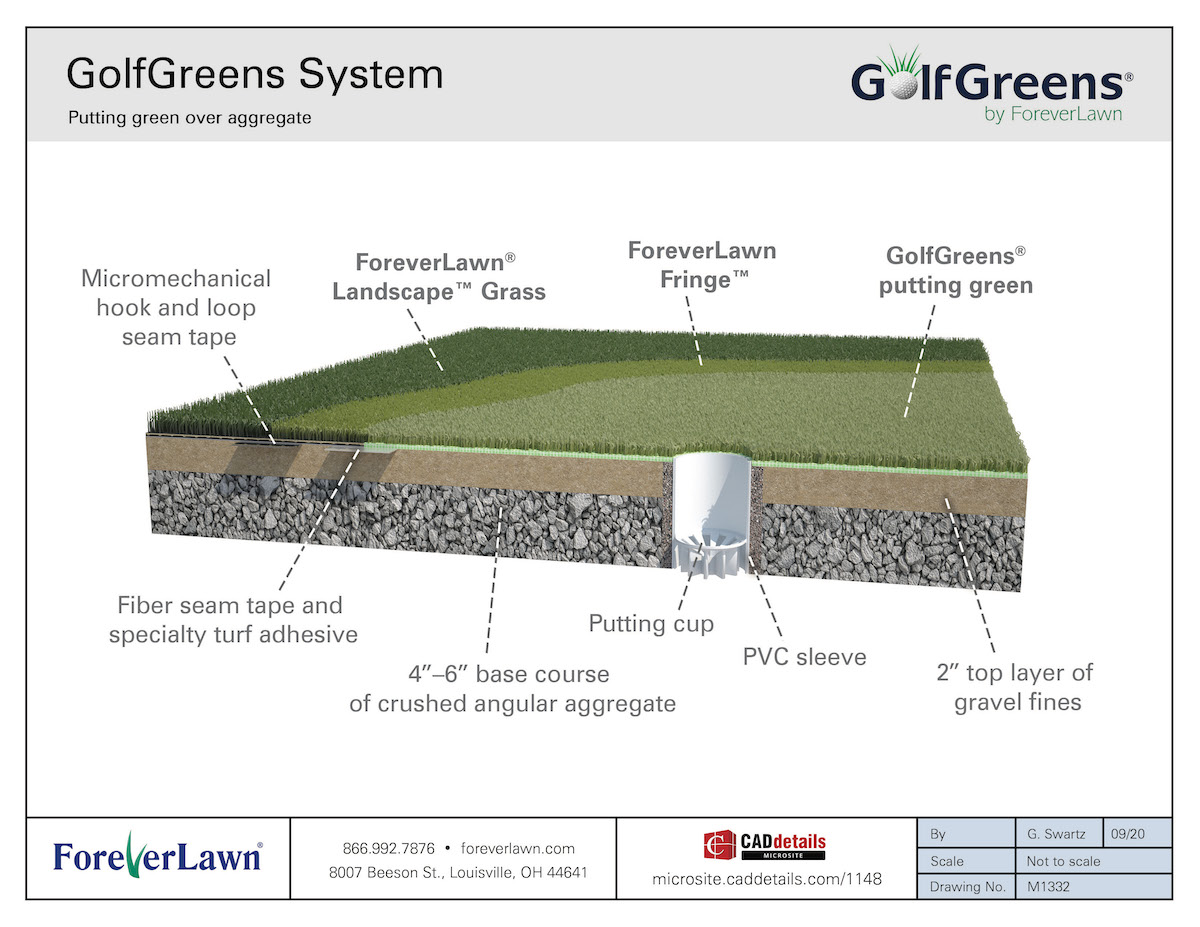 The first step to installing a backyard putting green is to clear the area.
Once the area is clear, level, and compacted, we then construct a well-designed base that will serve as the foundation for the green. A properly-constructed base will determine where the breaks will be in the green and will help ensure a smooth ball roll once the turf is added.
Putting green turf is then rolled out, cut, and seamed to create the top level of the surface.
Sand infill is worked into the grass to support the blades and create a natural ball roll. The amount of sand used can affect the speed of the green.
Do professional golfers practice on synthetic putting greens?
Is practicing on a synthetic putting green realistic?
Yes, practicing on certain brands of professional-grade turf provides a realistic experience. The textured nylon surface mirrors the fast green speeds found on well-maintained golf courses. The ForeverLawn system of expert installation and base preparation paired with our quality synthetic putting products offer a realistic, smooth surface for consistent ball roll.
Do sand-filled putting greens need to be refilled?
Pin Seeker is our polypropylene sand-filled green that allows for both putting and longer approach shots. Like any sand-filled green, the sand may condense and harden over time, which ends up speeding up the surface and altering playing ability.
Before resorting to refilling your green, there are steps you can take to restore it. If the sand begins to pack down very hard, it is good to use a tool with spikes (like a Garden Weasel) and roll over the green to keep the sand from packing too tight. Wet the green first, then run the tool over the green. Follow that by going over the green with a broom, then roll it with a weighted roller. Download the GolfGreens maintenance guide for more information.
The timeframe for when you can expect to need your green refilled depends largely on usage. Greens that are used very frequently may need refilled while greens used occasionally for entertainment may not. Please contact GolfGreens to learn more about Pin Seeker or for answers to specific questions about your particular putting green.
What if I can't afford to install a putting green?
In addition to permanently installed putting greens, we also offer portable putting greens—GolfGreens on the Go™. Made from True Putt 10/11, the same premium product used to create permanent greens, GolfGreens on the Go putting greens provide a first-rate experience wherever you are. Learn more about our portable greens and purchase them online here.
What kind of design options are available for a GolfGreens putting green?
Our various GolfGreens products are designed with specific uses in mind, and are often combined to give our customers their desired features and functionality for their putting green. When it comes to GolfGreens synthetic turf, there are endless possibilities for the design of your green. Beautiful shapes, bunkers, hole placements, contours, fringe options, and more are all customizable features. For example, our Fringe product provides a slightly taller grass that can be installed around the green to provide a professional, finished look and also offer an area for chipping.
We recommend that you request a free consultation to discuss design options with one of our GolfGreens experts.
Will having GolfGreens synthetic turf interfere with my regular lawn care routine?
As a general rule for all ForeverLawn artificial turf products, mowers, weed wackers, and edgers should be kept off of your turf. It is OK to trim natural grass near your putting green, as long as care is taken to avoid direct contact between the blades or wire of the power equipment and the green.
To maintain your putting green, groom the grass with a plastic leaf rake, stiff bristled push broom, or power broom to help keep grass looking fresh. When doing this, pull the items against the lay of the turf to lift the blades. Learn more about GolfGreens maintenance here.
Can you spray insecticide on GolfGreens synthetic turf?
Because any ForeverLawn installation does not contain organic materials, it is not likely to harbor bugs, making pesticides unnecessary. However, if you happen to spray pesticides on your green while spraying other areas of your property, it will not harm the synthetic turf.
Download the GolfGreens maintenance guide for more information.
Why do people decide to get an at-home putting green?
Reasons why a home putting green by GolfGreens is a great investment:
You have 24/7 access to a professional-grade putting green that's ideal for practicing your short game.
A high-quality, professional-grade green transforms the look of your property and enhances your landscape.
A home putting green is something the whole family can enjoy—not just professional golfers.
You can tailor your home putting green to meet your exact needs and specifications, adding in special features like bunkers, fringe, and more.
If you're sold on the idea of adding a putting green to your property, or just want to learn more, let's set up a free GolfGreens consultation!
Can a putting green be installed on a balcony or rooftop?
Absolutely! With GolfGreens synthetic turf, we're pushing the boundaries of what you can achieve with natural grass. The Royale at CityPlace Luxury Apartments is one of our completed projects where we installed a putting green on a rooftop.
Take a look at our Flickr account to see pictures of other balcony and rooftop projects.
How long does a GolfGreens synthetic putting green last?
You can expect to enjoy your GolfGreens putting green for 15 years or more thanks to the durability and longevity of the premium artificial grass putting green products by ForeverLawn. Our industry-leading 15-year warranty provides peace of mind that your investment is protected, and you can golf with confidence knowing that ForeverLawn is a long-standing company that stands behind our products and installations.
Can you adjust the speed of a GolfGreens putting green?
Yes, GolfGreens offers a variety of products with different green speeds and capabilities. For example, our True Putt 10/11 product provides a stimp speed of 10 to 11 without any additional sand added. You can increase the speed of any GolfGreens putting green by adding sand and rolling the fibers using a heavy water roller. Your GolfGreens expert at ForeverLawn will help you choose the product that's right for you, and install the green to meet the speed you desire.