Improve your landscape and your short game with GolfGreens artificial putting turf.
Request a Consultation to Get Started
Create a putting green that's fun and functional.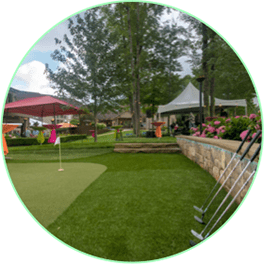 Entertainment
If you're the house that always hosts holiday gatherings, Superbowl parties, and casual get-togethers, it's worth it to put in a feature that everyone will love!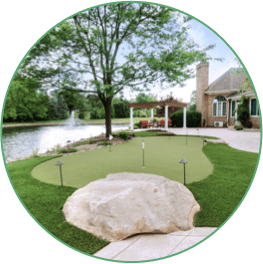 Practice
Whether you're a long-time golfer or just starting out in the game, having a place to practice putts is essential to improving your technique. Imagine just stepping out into your backyard ready to putt!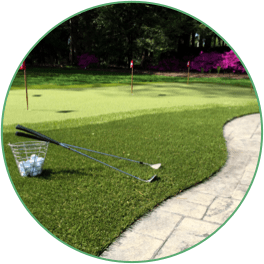 Aesthetics
The rich, green fibers and realistic appearance of GolfGreens® artificial turf offer a crisp aesthetic for your outdoor space that lasts, and that everyone can enjoy.
Every project is a hole-in-one with GolfGreens artificial turf.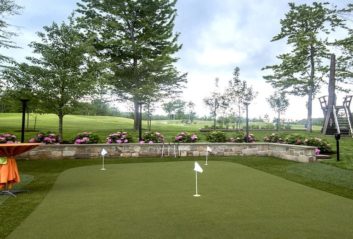 Location: Concord, OH
Three types of GolfGreens artificial turf were used to create PGA golfer Jimmy Hanlin's backyard green: GolfGreens True Putt 10/11 for the perfect putting area, GolfGreens Fringe for the fringe, and ForeverLawn® Select EL for the surrounding rough.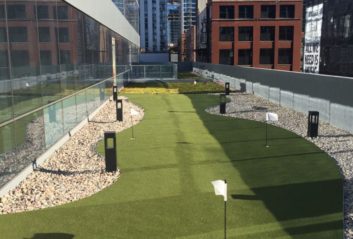 Location: Chicago, IL
ForeverLawn Chicago transformed the outdoor balcony space of this Chicago, Illinois, urban residence into a beautiful and functional putting green with 525 square feet of GolfGreens® EZ Putt.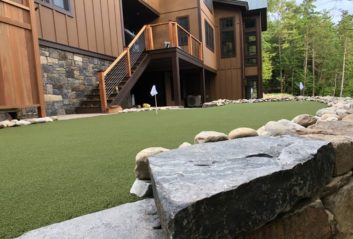 Location: Adirondack, NY
The owner of this incredible Adirondack winter home was craving an enjoyable and recreational atmosphere, which was achieved by installing a putting green using GolfGreens® Pro Putt & Chip.
Our GolfGreens products are good enough for the pros!
True Putt 10/11
True Putt 10/11 is designed for serious golfers who want to improve their putting skills. The numbers 10/11 refer to the speed of the putting green, as measured by a stimpmeter. The short, dense product offers a tight nap for a fast, consistent ball roll to give the avid golfer a realistic and reliable surface.
Pin Seeker
Pin Seeker is a polypropylene sand-filled green that provides an excellent surface for catching longer approach shots, while also allowing for putting. Golfers enjoy a high-quality putting surface with this product, which requires annual maintenance for optimum performance.
Pro Putt & Chip
Pro Putt & Chip is a versatile product for the entertainer or avid golfer. A taller pile height allows for chip shots up to 10 yards, and the consistent putting surface is an 8 or 9 on the stimp.
EZ Putt
EZ Putt is a family favorite for the backyard. The entry-level putting green has a medium pile height and average stimp speed that allows for consistent putting and short range approach shots.
Fringe
Finish off the look of your putting green with our high-performing fringe turf. The beautifully realistic artificial grass complements our entire line of synthetic greens by adding an attractive perimeter.
ProDrive
Great for tee line and driving range applications, ProDrive is a tall, thick, dense, all-nylon product that can hold a tee and will not melt under club friction.
Pure Shot
This high-performance turf mimics first cut grass and is designed to withstand fast iron speeds.
FIND THE RIGHT ARTIFICIAL GREENS FOR YOU
Our expert designers work closely with you to assess your golfing needs and to present a tailor-made solution. Whether you desire a small practice green or an extravagant landscape with sand traps, peaks, and valleys—we deliver your vision.
See more putting greens created with GolfGreens artificial turf.