In this episode of Swing Clinic, Jimmy Hanlin shows Holly Sonders some ways to improve her putting. Here are some of his tips:
Stand Steady When Putting
The first thing Jimmy points out about putting is that people tend to move their bodies all around instead of standing still. You can find out if you are one of these people by leaning your seven iron against one hip and your eight iron against your other hip while putting.
This is a great drill to help you learn to stay more still and steady when putting. When doing this, the clubs against your hips should not fall. If they do, you need to practice staying more solid when you putt.
Close the Toe of Your Putter
Another mistake Jimmy often sees players make when putting is that they allow the toe of the putter to stay open during their stroke. People are often focused on pushing the ball instead of releasing the putter. You should always aim to have the toe of your putter cover the ball during your stroke.
Try Putting with a Seven Iron
Another drill to improve your putts is to try putting with a seven iron. Hit the ball with the blade about halfway up. This will help give you feedback as to whether or not you are staying steady throughout your stroke.
Things to Remember When Putting
When putting, it is essential to remember that you should be rolling the ball, not hitting it. Do not hit up on the ball, this makes it hop which you do not want to happen. Also remember to keep your eye on the target instead of staring at the ball, because this will get you off track of the goal and will more than likely lead to a bad putt. You have to be able to judge distance!
Perfecting the launch of your putts is key. Keeping the ball on the intended target line can be incredibly difficult if it is not launched properly. Make sure your putter is fitted for you correctly, so you can do this with ease.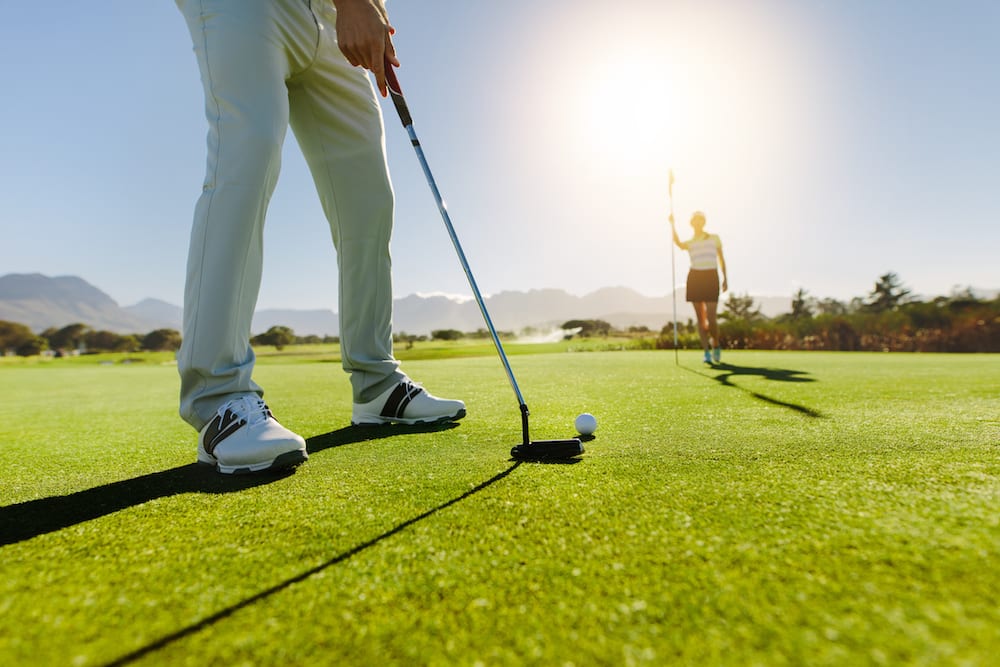 Unfortunately, you aren't going to hit a hole in one every time you play golf. This makes putting one of the most important parts of the game. Once you master how to properly putt, you will be on a better path to success in golf.
Remember to check back for more tips on how to improve your golf game, and contact us today to learn how GolfGreens® artificial turf can help you practice like the pros!