In this episode of Swing Clinic, Jimmy Hanlin gives Caroline Collins some tips on how to increase range of motion, especially if you are a golfer who does not have the greatest flexibility.
What is Range of Motion?
In golf, range of motion is how far you can move individual joints in different directions. Having normal range makes your swing easier and smoother and lessens your chances of being injured. Flexibility, distance, and speed are commonly lost in senior golfers.
Grip, Hip Flexibility, and Ball Positioning
Jimmy offers three main tips to help improve range of motion on your golf swing. The first has to do with your grip, which is super important. You will want to strengthen your grip so the club will square up much quicker and therefore be less reliant on your flexibility.
Next, seniors lose flexibility in their hips, therefore affecting the way their bodies turn. So, to counteract that, flare out your right toe on your right foot to the right. This gives you a lot more freedom to move when taking your swing. This is the perfect way to really get behind the ball, which can be hard to do when your flexibility is compromised.
The last tip has to do with ball positioning. Moving a couple steps to the left and having the club closer to the ball allows you to open up more. As a senior, you lose a lot of forward motion. This tip can help with that.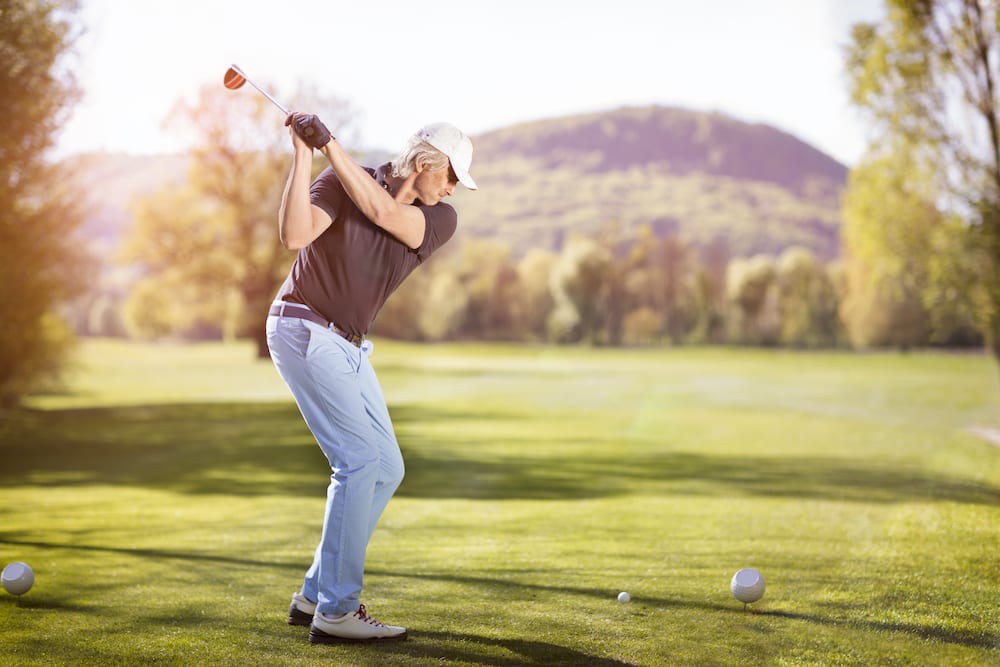 Who is a Senior Golfer?
It may surprise you, but when it comes to golf, a senior is not someone who is 80 years old and above. In men's professional golf, senior tournaments are for players starting at age 50. Golf is unique when it comes to sports, because you can play until you can't anymore. Most baseball and basketball players are lucky if they can make it to 40 years old, but that still is very rare. Golfers will likely experience changes in their bodies as their careers carry on. This is why it is so important to learn tips and tricks like this now, so you can be prepared for fixing your game in the future.
Remember to check back for more tips on how to improve your golf game, and contact us today to learn how GolfGreens® artificial turf can help you practice like the pros!